Chapter 5: "Ever Eastward, Deeper into Europe"
A nocturnal train journey through ruined territory; eerie signs about what lies beyond Berkshire; the Bomb, slumbering underground; a last-minute conversion with potentially dire consequences.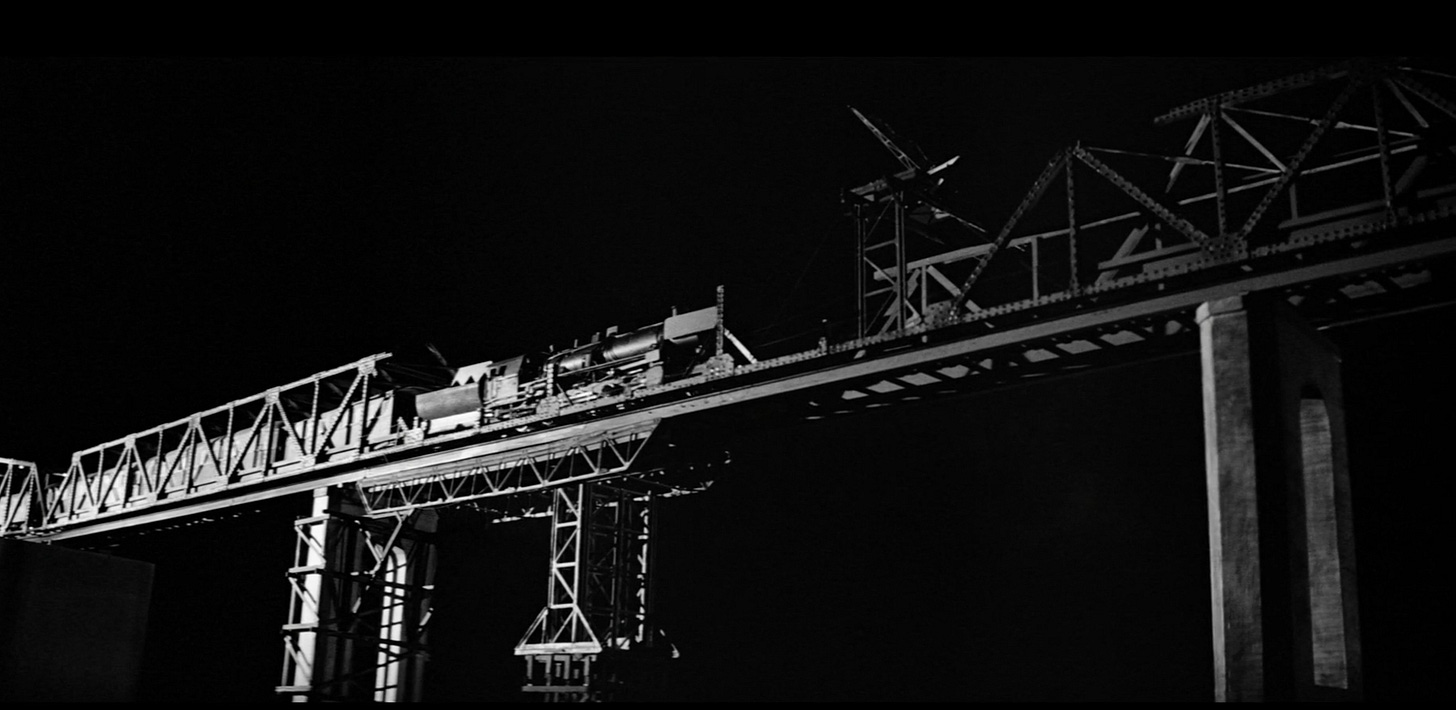 I spill out of the Decline of Empire with the group from the backroom lounge, all of us trailing behind Professor Squimbop II, who lunges forward by swinging his briefcase in a wide arc and then shuffling his feet to catch up with it. I linger toward the back of the group, chatting with Flap and the woman who told the ape story, whose name, I learn, is Deborah Roth, a conceptual artist in plasticine and pressure-treated wax. She tells me that she'd had a residency scheduled at Mass MoCA, a lifelong dream, before, as she puts it, "the wall of shit came down."
"But then," she says, hanging back as Flap keeps walking, apparently waiting until he's out of earshot, "the longer I stayed in Berkshire, biding my time, waiting to see if any light was ever gonna shine through the wall of shit, the more certain I became that it really was 1986 here, just like people say, the Bomb on the edge of town well-guarded but ever-ready to go off. It started to feel like all of that, Mass MoCA, you know, the whole thing, the hangings, the fires, the crazy shit we've been hearing from New York, was the false story, and this, here, the ape, the pole, the Local Darwinists, the Bomb, the monastery on the other coast… was the real one. You know?"
She looks at me, waiting until I act like I know what she's talking about.
As I debate whether to pretend that I do, I notice that we're passing again through the railyard, "the largest urban railyard in North America," as Flap put it, which, at the time, had seemed absurd—I can clearly remember returning on the only train that comes up this way, on the only track—and yet, now, I look around, avoiding Deborah Roth's gaze, and it's impossible to deny: dozens and dozens of tracks, snarling together, intersecting in butterfly- and infinity-signs, an improbable nexus of the world.
I think of Alfred Kubin and Gustav Meyrink, those weirdo Austrian fabulists of alternate dimensions just to the east of Europe, and I can hear Arp expounding on their imagery, assigning us to go home and illustrate our own Other Side in our dorm rooms with all the lights off, forcing, as he put it, "light to shine from our eyes and onto the parchment beneath our dirty, ingrown fingers."
Deborah Roth says, "I've got it all in microcosm. The pole, the ape, the ravening townsfolk," she hangs back even further, waiting for the crowd around Squimbop II to vanish in the twilight. Flap turns, notices this, but turns back without saying anything. "And, most importantly," she whispers, "the world at the top. Where the ape's going. The only safe place left. Where," she lowers her voice yet again, down to the very edge of audibility, "where we're all going, if we're lucky. If the Bomb," she gestures off to the right, as if the Bomb lay in that direction, "doesn't claim us first. One day, or one night, you'll see, that ape is gonna reach the top, and when it does, everything's gonna change."
*****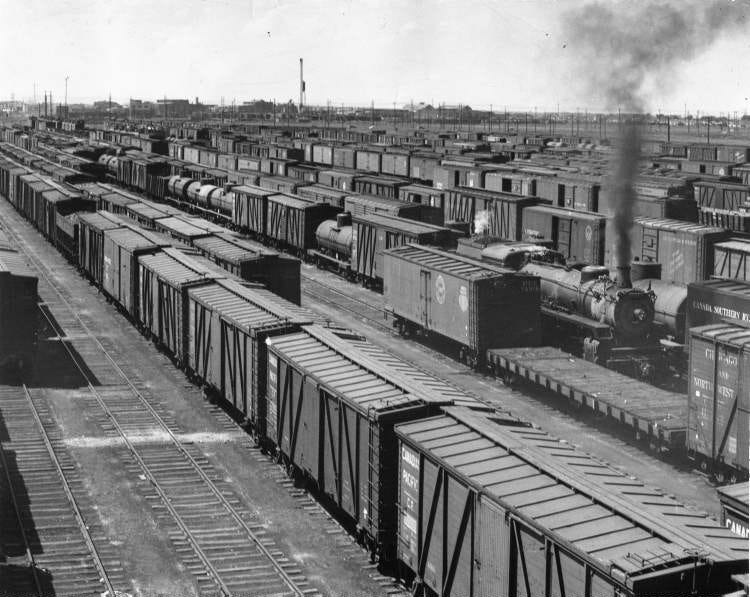 As soon as she says the word change, a shrieking whistle and a cloud of dust bear down on us, and I lose track of her. When the dust clears—I've already begun to think that perhaps it'd be more honest to say I snuck off rather than I lost track of her—a jet black, unmarked train is idling on one of the innumerable tracks, sealed but for a single door, with a lone attendant leaning out in a tuxedo. Though his face is invisible in the night, I get the sense that he's looking at me, waiting for my decision.
I stand in place, trying to frame the questions I know I ought to ask myself. ("Are you glad to have escaped the prospect of a party in ANGEL HOUSE? Are you already eager to escape Berkshire, so soon after escaping what lies beyond?" Arp's voice asks, in my head.) I feel the attendant's face narrowing, growing impatient, as the train starts puffing again, a new plume of steam unfurling into the salty night sky. I breathe it in, think again of Arp's lecture on Kubin's The Other Side, and, still undecided as to whether I truly want to go there, climb aboard.
The attendant nods like he's willing to observe a temporary truce, and says, "Left middle compartment." Then he vanishes, leaving me to find it on my own. I lurch forward as the train leaves the station and begins to chug along the waterfront, the lights of distant barges slashing in through the grimy windows. Leaning against the glass, I turn from the sea and watch the Commodore and its outdoor convention tents pass by.
Next, we enter a district of factories and water treatment plants, then one of cranes and shipping containers and then, as I finally grope my way into the compartment that I think the attendant meant, and sit down on the cracked leather banquette strewn with what looks like Serbo-Croatian newspapers, we enter the district of domes and minarets that I kept seeing at the far end of the high street separating the Berkshire downtown from the waterfront.
I lean back against the cigar-smelling leather, knocking newspapers onto the carpeting, and watch as we chug deeper into the neighborhood that I believe Arp considers to be Zagreb. I try to keep my own memories of traveling these streets during the Zagreb International Animation Festival from returning but, of course, this effort only brings them back faster. Soon, we're speeding past the Miragoj Cemetery and then, though it seems impossible that the tracks could run this way, we're cutting through it, graves and mausoleums rising on both sides, until they loom above the train like Expressionist stage props, dwarfing us in shadow as a far distant sun begins to rise.
We grind to a halt beside a grave that, though I try to keep myself from looking, I immediately recognize as Arp's. Several passengers disembark here and fall to their knees in front of it, their lips puttering, emitting a barely audible melody.
Thankfully, the attendant comes by just now with a tray of cigars and tiny glasses of sweet red tea, and I find myself buying one of each, handing him a crumpled bill that I don't uncrumple, so as not to discover what currency it's in.
"Ever eastward, deeper into Europe," I think—or notice something thinking through me—as I lean in to let him light my cigar. I lean back, puffing at it, while he releases the foot-brake on his cart and rolls it onward, down the corridor that seems to be filling with passengers who've come aboard at the station marked only by Arp's grave.
*****
They settle into their places, filling the compartment with smells of ash, rot, and mulch, and the attendant refills the tiny teacups on his tray and sets back out to resell them after drinking one himself and smacking his lips in my direction, as if to seal off the brief, private interlude he and I shared.
We pick up speed as we plunge deeper into the graveyard, the graves whooshing past, Arp's receding, once again, into the fog. I lean back and puff my cigar, my lips crinkling upward into a smile around the edges as I imagine myself as Freud, or a Freud impersonator, in his office in London, in his very last years, as the world teetered on the brink of something he wouldn't live to see it fall over… or, I think, to almost fall over, as, it must be said, some of us are still here, a century later.
I lean back further, puff deeper, as we pass through the patchy exurbs of Zagreb, or what I remind myself to qualify as "the Berkshire Zagreb," and into a landscape straight out of Anselm Kiefer, or that of a Berkshire-trained Kiefer impersonator. I know I should nip this new tic of bracketing everything within its potential pseudo-ness in the bud, but the fear that I may accidentally mistake the pretend for the real is too great—as, perhaps, is the hope that this will turn out to be the case, that the destruction we're now surrounded by will prove, in some as-yet-unreached final reckoning, to be merely an illustration of what could happen, not of what already has.
So, for now, I continue puffing my cigar and regarding the destruction as an example, a cautionary tale, some colossal art project commissioned by the generous grant-giving bodies at Berk.
*****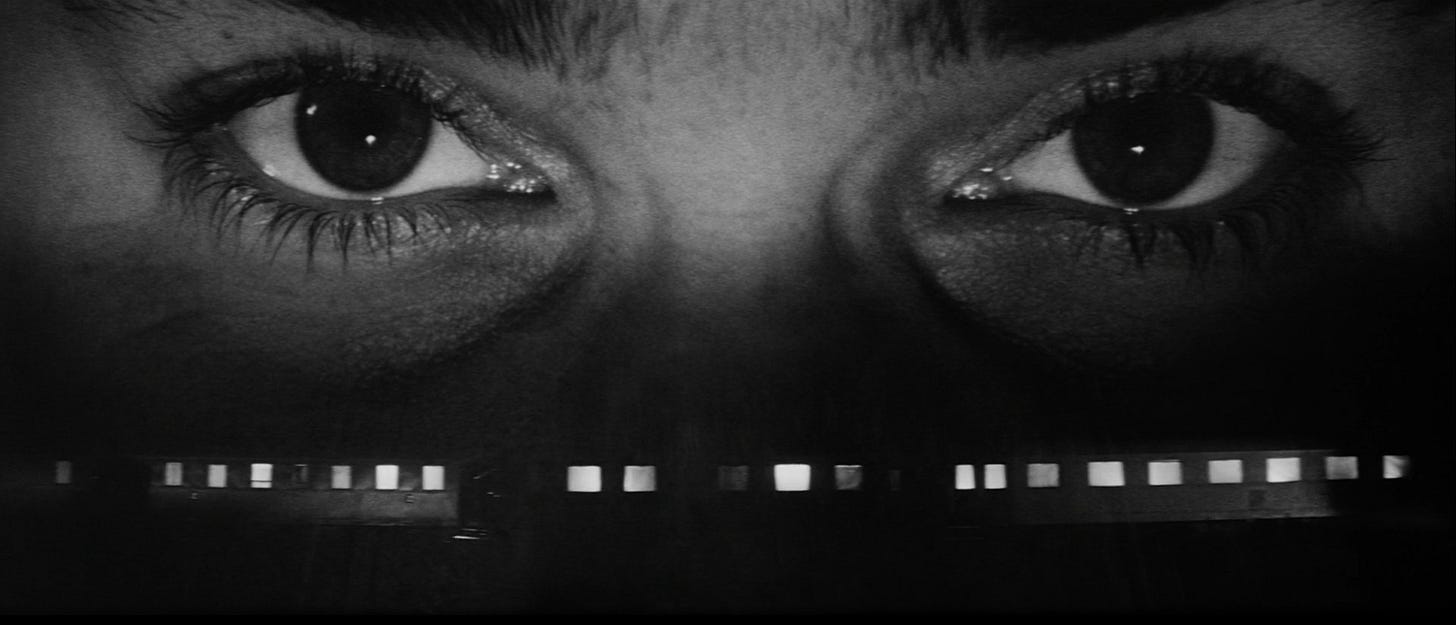 We tear across lunar steppe, off-white, cracked cement buildings barely visible around the edges, half of them exploded, the other half unfinished, wrecked cranes and cement mixers tangled together in open pits. Mothers with small children propped against their legs stand in the foreground, watching the train pass with scarred, half-human faces. A few approach, running after us, arms outstretched, but something, a sickness or a weakness, holds them back, rendering their pursuit impossible.
We stop occasionally in frigid, outlying towns, the platforms patrolled by wolves, plastic bags unfurling against the windows like jellyfish. The doors open, barely, then slam shut, and the train resumes its journey, toward… I look down and see a ticket marked Berkshire Station in my lap. All other text, including the date, is worn away. Part of me thinks it must be the ticket from my original journey here, the journey that marked my Escape From New York, while another part thinks the attendant must have handed it to me along with my change after I bought the tea and cigar.
I look it over one more time, then fold it and slip it into my pocket, unsure whether I hope it's still valid. If not Berkshire, I ask myself, what do I hope my destination turns out to be? And yet if I wanted to end up back in Berkshire, why did I get on the train?
We pass destroyed factories, piles of downed airplanes, bombed bunkers, gendarmeries, and then we emerge from a tunnel onto an icy coastline. The Gulf of Finland, I decide to call it, wondering if we'll soon be passing through Petersburg (I work hard to suppress the tic of calling it "pseudo-Petersburg," though I can't suppress the knowledge that I'm doing this).
The air in the compartment is so warm and still that I can't tell if the ice outside corresponds to real cold, or if it's a purely optical effect. For a brief, cavalier moment, I resolve to get off at the next station and find out for myself whether I can enter the world I'm looking at, but, of course, when the stop comes, my nerve abandons me. I remain in my seat, watching the platform wolves slink toward the doors, snarling as the engine starts chugging yet again.
*****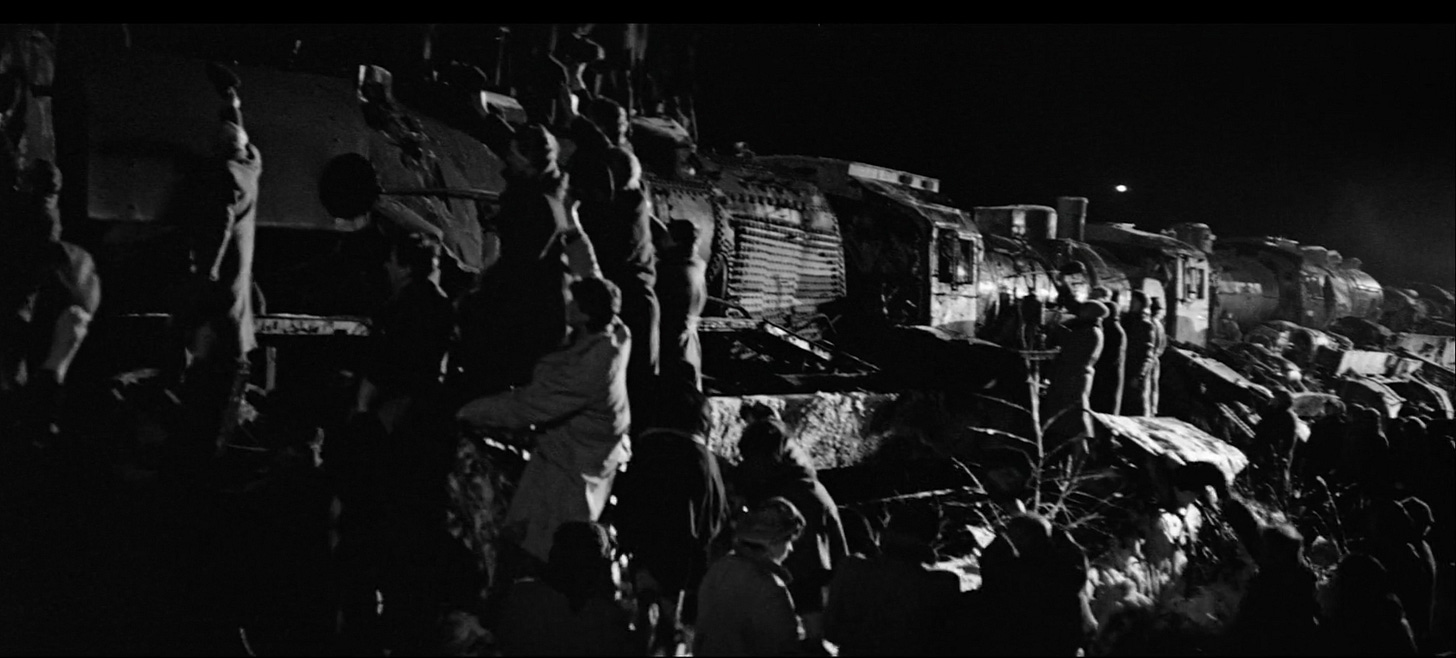 Time begins to pass in larger chunks after this failure of nerve, whole runs of stations blurring together. At some point, I lurch to my feet and wander down the carpeted hallways, past the water boiler near the bathroom, and into the dining car, where I sit alone at a table with a stained white tablecloth and eat borscht and smoked salmon from gold-rimmed dishware, paying with more of the crumpled bills that I still don't unfurl.
I watch stands of birch trees, some so dense they look like white-papered walls rushing by, interspersed with encampments of ravaged wildmen, sitting around blue fires roasting flesh on long sticks.
Weary after my meal, I wander back to my compartment and lie down on the banquette, knocking cold ash from my cigar onto the carpeting. Just as I'm about to nod off, I look up and see what looks like a nuclear power plant, its ovoid reactors belching into the frosty, starry night.
*****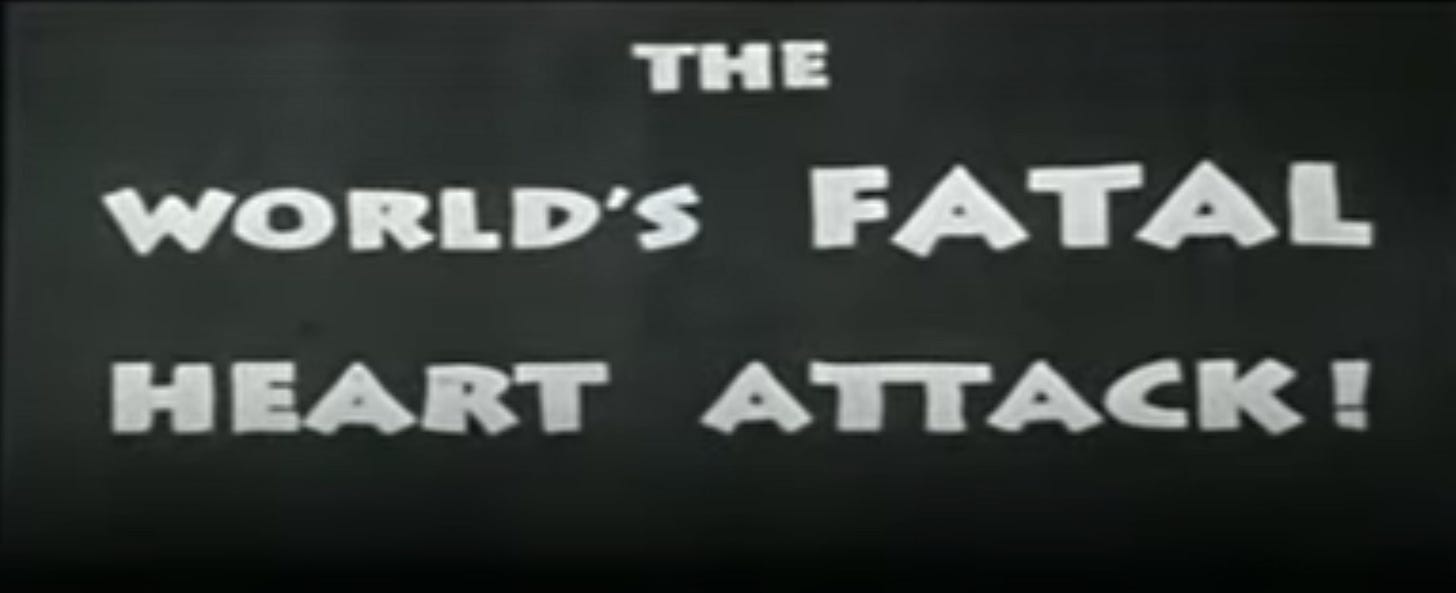 This sends me into a dream of the Bomb, nestled beneath those reactors, slumbering until called upon to erupt. In the dream, it's a cross between a Bomb and a volcano, a natural phenomenon harnessed by man for evil, simmering underground until its moment comes. Somehow, in the dream, I sense that it's 1986, the year of my birth, and thus I too am slumbering underground, preparing to break through.
I roll over on the leather banquette, my arms pinned to my sides, my nascent dream-body encased in a nuclear embryo, until my eyes jerk open to see the hulking, panting train attendant leaning over me, leering, his hands working in his tuxedo pockets while brown tobacco strings dangle from his lower lip. He groans and growls, laughing at me, or at himself, or at the two of us, brought together by circumstance for one night only.
I close my eyes again and return underground, still gestating inside the Bomb, the destroyer of worlds, the doomsday device that, I sense, will one day destroy Berkshire, ending the temporary state of exception that has allowed it to remain untouched so far by whatever has snuffed out the rest of the world. (In the dream, I admit the destruction is real.)
Deep underground, I can hear the train chugging overheard, returning weary passengers to Berkshire yet again, soothed by the belief that here, of all places, one can live safely, beyond the reach of Armageddon. I laugh at the naivete of this belief, just as the panting train attendant laughs too, spitting tobacco juice over me where I lie and then waddling off, out of my compartment and back into the corridor, where he rolls down one of the windows and spits outside. Then he mutters something in a language I know I shouldn't understand, yet, somehow, I do. "Goodbye, Arp," he mutters. "Soon you'll be back where you belong. You know I'll miss you."
*****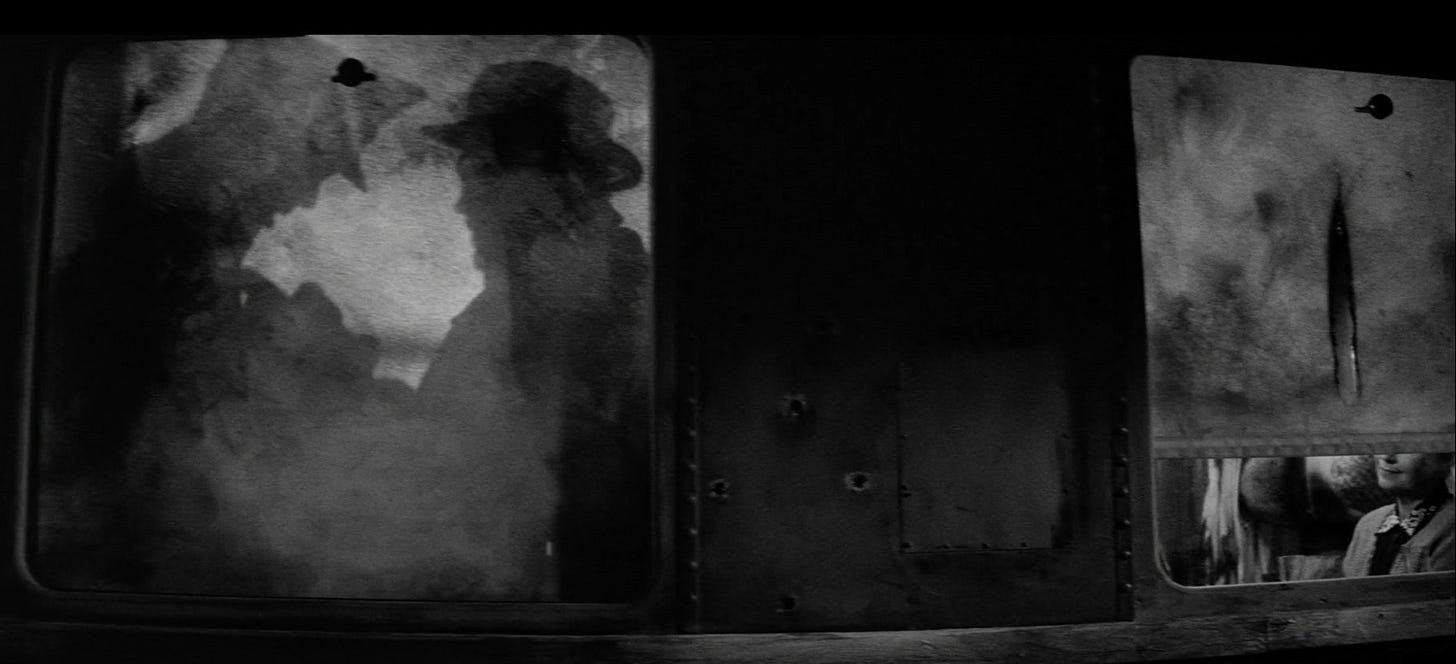 As Arp, I close my eyes and begin to pray. I pray that I'll forget what I now know is underground, ticking and ticking, biding its time. I pray that I'll be allowed to become Spine once again, a young man with most of his life still ahead of him, the student I took under my wing and trained to pick up where I left off, to stride confidently into a world I could no longer inhabit.
I pray that I might be forgiven for having attempted to leave Berkshire, perhaps not for the first time. For having, as the expression goes in English, looked a gift horse in the mouth. For having failed to appreciate the gift I was given, though, deep down, some part of me that I wish would remain silent still doubts that it really is, or ever was, a gift. Some mental Judas tries to sabotage the rest of the prayer, even as the main part of my mind presses on, extending gratitude upward and outward, past the fields of hanged and burned bodies, past the collapsed buildings and hollowed-out airplane hangars, past the ominous slogans in Serbian and Turkish, burned onto the pink skin of dead hogs, praying that this train journey might prove to be circular, that I might once—just once!—again be permitted to arrive in Berkshire, safe and sound, spared from the pestilence that has ruined the entirety of the surrounding continent, or made of it a continent that should not exist and yet, now, is all that's left.
*****
I grow feverish, sickened, my being teased out like crabmeat from its shell, twisted and deformed between the distant housings of Spine and Arp. I lean up as the sun begins to rise, perhaps not for the first time on this journey, and the train crosses a bridge over a river choked with bobbing skulls, some still partly covered with flesh, and I look out and all I can think is, I am, once again, being granted safe passage through a zone of profound danger.
And only God can grant me this.
I shudder, swallow, yawn, anything to retract this last thought, or to mock it enough to be certain I didn't mean it. I am an artist, I think, and thus not someone who believes in God. Never have been, never will be.
And yet there it is. Whether I'm now Spine, or Arp, or some third being named Spine & Arp, the thought won't leave. It's worked its way in, infected me, and now it lives there. Now I can't deny, internally, that I'm grateful to God for having given me a second chance, another return to Berkshire, after I boarded this train in a fit of mania last night, or several nights ago, whenever it was that I peeled away from the prospect of a party in ANGEL HOUSE, as if that could possibly be worse than the alternative.
And yet what exactly is the alternative? I wonder, as the train comes to a halt. I try to look behind me, in the direction of all the territory we've passed through, but the attendant is back in my compartment now, barking, in English this time, "Berkshire, friend. Time to get off."
As I shuffle past him, my belt-buckle touching his, he whispers, "I love to watch your conversion. Always have." His tongue runs over the stubble beside my ear. "And always will."
Then I'm alone on the platform, jumpy, looking for wolves.
*****
The train chugs away, back onto the route that I now suspect is a long circuit, and I turn to face the Berkshire waterfront, once again a new arrival here, but this time freighted, against my will, with all the weight of the Christian God.
"I don't believe you accounted for my return here," I whisper, to which this God replies, "Doesn't matter. I know you know I did."
A group of college students dragging a wooden crate marked FOR BERKSHIRE ZOO passes through my field of vision, two of them with machetes slung over their backs. Though they pose no direct threat—to me—I take this as a sign to get moving.
Determined to play out this Return to Berkshire differently than the last one, I turn away from the waterfront and the Commodore, and head toward the hills on the western side of the city, which lead, or used to lead, to an amusement park overlooking the harbor (except, I remind myself, wearily, there never used to be a harbor here).
*****
As I'm trudging in that direction, the street beginning to wind upward, I come upon a square that I've never seen before, though it seems familiar, like perhaps I passed through it on my long-ago visit to Zagreb. It's surrounded by handsome brownstones, a few with cafes and sandwich shops on their first floors, and one with what appears to be an art books store. Halfway to the window to see if they have the image-book of The Pale Oaks that was published by Rizzoli last year, along with several new interviews I did (I consider myself to be Spine again, though the return to selfhood doesn't feel permanent, my crabmeat inelegantly jammed back into its shell), I see a vibrating pole in the center of the cobblestone square.
Stepping back, I look up, trying to understand how I could've missed it before. It's immense, so tall I can't see the top, not anywhere close. It disappears into the grey sky, departing from Berkshire altogether and entering a realm that, in my newly religious state, I can't help picturing as heaven.
I sink to my knees and stare up, allowing my eyes to come undone from their housings and float past the dark cloud over Berkshire, which I—or they, my eyes—come to see as a mushroom cloud, the final dissolution of our community of survivors, leaving nothing in its wake except, in the highest heights, a single exiled ape, a tremendous, hairy, super-intelligent creature that has spent the last century climbing without respite, leaving the world of men far below, undaunted in its quest for a higher plane, a new world that, I'm now certain, lies just a little higher, at the very top of the pole which, though it's extended this long, can't extend forever.