Chapter 4: First Day of Classes and First Evening at the Decline of Empire
On Pynchon's V., an endlessly climbing ape, and Professor Squimbop II's "Legacy of ANGEL HOUSES"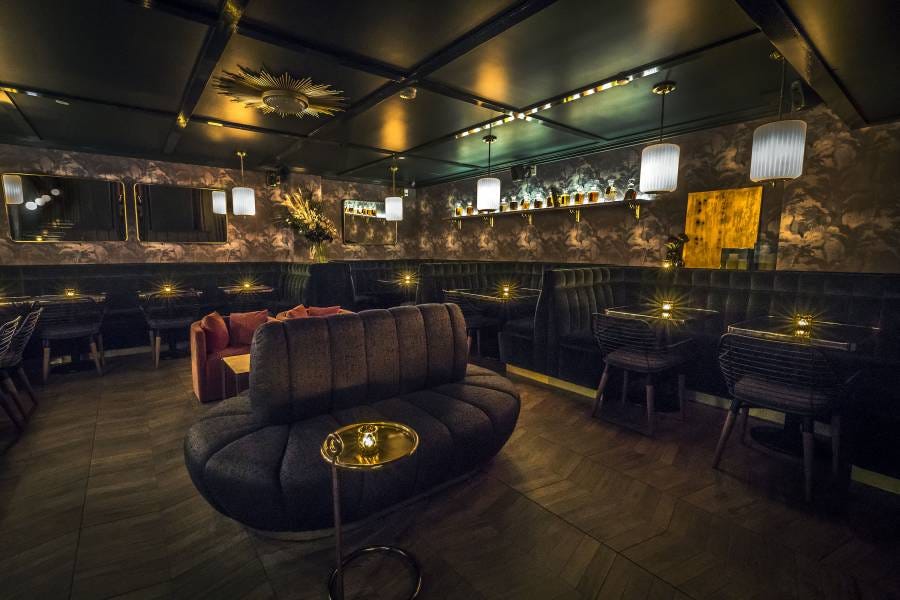 It's been several days now, alone in Arp's house, or alone with Arp in Arp's house, though if he is here, his presence has remained mostly under wraps. A shadow I turn away from when it appears between me and the wall. A shadow that looks enough like my own to retain the belief that it is, provided I turn away as soon as I see it.
In general, my situation has begun to feel less alarming, though this fact may itself be more alarming than I realize.
I moved from the couch into one of the bedrooms upstairs, and kept to myself in there, in semi-conscious denial of the footsteps I could hear on the landing, or the spots of beard-dappled shaving cream I'd discover on the edge of the sink. If I can only keep from seeing him head-on, I told myself—and continue to tell myself—as I began to settle into a new routine in the house, it should be possible for the two of us to live together as one, without ever broaching the question of what kind of house we're living in, and whether he's the dead one, or I am, or if both of us have emerged into some realm beyond the normal distinction between life and death.
Inevitably, an afterlife mood came over my early routine in the house, a slowness and heaviness in the head and belly, coupled with a lightness of sensation where my feet made contact with the ground and my hands made contact with whatever they reached for, as if some burden of sensation denied to the outside of my body was piling up within.
I'd lie awake most nights and listen to the distant whistle and chugging of trains, tearing through town without seeming to stop, though, last night, I heard the engine grind to a halt, a whining of mechanical parts, and then, ten or fifteen minutes later, I heard a coughing and rustling of keys and then a flushing toilet downstairs, as if Arp—I could admit his presence at night, when I might plausibly be dreaming—had just arrived.
*****
On the morning that followed this supposed arrival, I began to roam the campus. Ragged visions of my Escape from New York filtered in, images almost certainly ripped from the hopped-up action films of the 80s, but, as I experienced them that morning, they seemed like my own. Like I really had escaped, my safe arrival in Berkshire something of a miracle.
I sat on the bench outside the Arts building and thumbed through a copy of Pynchon's V. that I found on one of Arp's many shelves, probably the same copy he'd lent me when I was twenty and I read it, on this same bench, for the first time, the back of my head hanging open while steam poured out. I remember, all those years ago, reading that Pynchon had published it when he was twenty-six, and I remember wondering what took him so long.
I put the book down, keeping my place with my index finger, and watched the students proceed to the wet market up the hill, dragging panthers, gators, and chimps on leashes, machetes and shotguns slung over the shoulders.
What world are they living in? I asked myself, as I leaned back on the bench. Where have they come from, why did they come here, and where do they think they're going next?
None of it was guessable. I yawned, took my eyes off the animals—I knew I'd end up in the wet market for lunch in a few hours, so it was important to spend the time between now and then forgetting where the meat came from—and looked up to see Flap coming my way, in his blazer and sneakers, behind a pair of silver-tinted shades. I couldn't tell if he noticed me, and I wasn't sure if I wanted to get his attention, but then he cracked a grin, pulled his shades up onto his forehead, and took a seat beside me.
After a little chitchat, centering on the Big Ideas Festival that was ostensibly still coming to the Commodore, at which he was slated to do his first paid comedy set since the carnage in Butte—he didn't mention the Zagreb International Animation Festival, and I didn't bring it up—he asked if I was still interested in teaching. "Can be on whatever," he said. "Put a little money in your pocket. No pressure, but, if you're gonna be here awhile, I mean, why not, right? You'll have to meet the President eventually, but probably not yet. I'll tell her you're interested, if you want. Forward me a resume, and a link to The Pale Oaks, and I'll set it up."
Something in the way he mentioned the President, and positioned himself as a liaison between me and her, gave me pause, like right now was my last chance to protect myself from something that I would, in the future, wish I'd been protected from… but the allure of getting something for nothing, of being hired without applying, was too great to resist. More than the money, I thought, it would be nice to have an official reason for being here. A cover story, if anyone asked.
*****
And so that's how I ended up teaching Goals For Art in the same room where, eleven years ago, I took Arp's seminar on Habsburg Hauntology: The Great Puppeteers of Czechoslovakia and Austria-Hungary. I showed up early the next morning, my first day, with Pynchon's V. under my arm for good luck, and mused on how the students filing in—somehow, using means that I got the sense he wouldn't describe if I asked him, Flap had also taken care of enrollment—were now the same age I was when I first read it.
I put the book down as the last of them takes a seat, machetes and shotguns propped against their desks, the hot seminar room ripe with the smell of fresh animal blood and layer upon layer of sweat. In their bikinis and biker shorts, half the guys shirtless, they look up at me, yawning but polite, waiting to hear whatever they think I'm about to say.
"The question I want to pose to all of you," I begin, theatrically abandoning the notes I'd prepared, "is whether the vision of art we have at eighteen and nineteen—the vision all of you have right now—is the truest vision we'll have in our lifetimes. If it is, regardless of the evolution we'll undergo in the years to come, the vision we must stick to, no matter what. Is the sacred bond that every artist forms with him- or herself formed at eighteen and nineteen, and only attenuated over the long years of toil thereafter? If the essence of striving to become an artist at eighteen and nineteen is that one's vision exceeds one's grasp, in the sense that one is never satisfied with what one is actually able to produce, and the process of the hard, hard work in the years to come is that of reversing this ratio, so that, by old age, for many an artist, one's grasp has come to exceed one's vision, then…"
I break off here, thumb through V. to gather my thoughts, then resume. "My question to all of you is do you want your vision to evolve, or do you want to spend the rest of your lives attempting to render, in material form, that which you can already see, right now, right here, before your eyes in this very room? Indeed, that which you can right now see more clearly than you will ever see it again. If you had the choice between either future, that of untold new vistas to come or the slow, tireless work of exploring the vista that already stands open before you, which would you choose? And what are the stakes of this choice?"
*****
I say a great deal more along these lines, then dismiss them. They file past me, already wrapped up in private conversation, en route, I imagine, to the eerie housing towers that Flap told me they live in, on the one edge of campus that I never find occasion to approach. I stay in the classroom, full of their sweat and sunscreen smell, wondering what I should have said, if not what I did. But it's true, I think, isn't it? Was I wrong to devote my twenties to The Pale Oaks? And what of my thirties, what of the years and years to come, if years and years remain to me? What vision am I now burning to render in wire and felt, if not that same vision I had at nineteen, when I met Arp in Zagreb and The Pale Oaks revealed itself to me in utero?
As I scoop up my V. and bustle around the room, like there's some elaborate clean-up ritual I need to perform, I consider how I spent my twenties immersed in art, living for it, at the price of missing what was going on in the world. Hence, whatever apocalypse I may have survived caught me unawares. I didn't see it coming because I wasn't looking.
But, I think, turning off the lights and closing the door as I emerge into the hall, did I actually gain power over reality by ignoring its surface to study its inner mechanisms, alone at night in my apartment? Did I become a kind of alchemist? Perhaps. Perhaps I gained the power to save myself from something that would otherwise have crushed me, regardless of how well-informed I might have been about its origins and trajectory. Perhaps whatever sorcery The Pale Oaks worked, with or against the larger forces afoot in the universe, is the only thing that made it possible for me to arrive here, of sound body and mind, with my life still ahead of me, rather than crushed under rubble or rotting in some plague-heap back in New York, if, indeed, that's what's now afoot there. Perhaps—I make note of this for next week's class—art really did save my life.
I hurry away from where I stood having these thoughts, as if they were a noxious cloud I'd been standing under and, by removing myself from their vicinity, I might be able to dodge their upshot.
*****
This works, to a degree. I take a seat in the tent at the wet market, tuck into a plate of gristly fowl with a mug of dark berry juice that I'm now able to order with a hand signal, and watch V. rustle in the wind, letting my mind loop back to the afternoon after my first class with Arp, with this same copy of V., in this same tent, and….
I recoil, cough into my arm, then rub my palm against my forehead. No, I tell myself. That's not quite right. I couldn't have had V. yet, because Arp lent it to me, and not after the first day of class with him, because we'd just met… or, no, I think, we met at the Zagreb International Animation Festival, where we….
I get up, dizzy, something in my stomach not sitting right, and head toward the far edge of campus, seeking the sea air, the Commodore—where we met, at the Zagreb International Animation Festival, part of me tells another of part, while that part rejoins with, No, that was just a dream, the real Festival was in the real Zagreb, across the ocean, in the real Croatia, where the Real Arp….
I sit down on a bench, ten feet from the tent, and watch through runny eyes as a shirtless student with pierced nipples beheads a tiger with a curved sword. This sight, though freakish in its own right, offers succor from the question of the Real Arp, and why he's so hard to pin down. I look back at the table where I'd been sitting and see my copy of V. still flapping in the breeze, and….
As if the word flapping had manifested him from nonexistence, a shadow crosses my line of sight and I look up to see Flap blocking my way, back in his silver-tinted shades, approaching in exactly the same manner as when he offered me the class yesterday, like a clown reprising a routine he's long since perfected.
I decide to take this as a welcome intrusion, and stand to meet him, just as he'd been about to sit. For an instant, we remain half-crouched, our heads level despite our opposite trajectories. Then we both return to our full heights and he says, "Hey, man. Was looking for you. How was the first day? Better yet, don't tell me. A few of us are meeting up for drinks. Decline of Empire… you in? Word is, Professor Squimbop II might stop by. If he does, it'll be open bar. Guy's loaded. Come on."
*****
We retrace our steps from my first night here, again crossing the street that separates the campus from the city that seems to have grown even in the few days—maybe a week at most—since I was there last. Cranes crane in all directions, hoisting the housing towers ever higher, piling one tower on top of another, while, in the far distance, where the afternoon light begins to shimmer, Byzantine or Orthodox domes are visible, as if Berkshire extended to incorporate not only Zagreb but points further east, as well. Istanbul, Samarkand, God knows.
"Largest urban rail yard in North America," Flap mutters, as we pass the station where I arrived.
"What?" I ask, shivering in the salty air.
But Flap's up ahead now, hurrying along the boardwalk, and I can't tell if he's been up there all along, or if he took off after saying whatever he just said. I look back at the ocean, my memory of the fact that it doesn't belong here fading.
*****
I wait outside the Commodore while Flap runs up to his room to change into a leisure suit and get his money clip. Then I follow him across the four-lane road that separates the hotel and boardwalk from the main downtown—a road that I'm tempted to call a thoroughfare, though I can't quite imagine where the cars are speeding to, or from—and through a warren of narrow streets that remind me of Spitalfields in East London, where Jack the Ripper is said to have operated. After rounding several tight corners, we push through the velvet-curtained doorway of the Decline of Empire, squeeze past a few indistinct regulars on barstools, and arrive in a backroom lounge, where two men and two women recline in leather armchairs, a bottle of red wine open on the coffee table between them.
"And no one knows exactly when it started climbing," says a middle-aged woman whose head protrudes from a plush, multi-tiered scarf that completely covers her shoulders and neck.
Flap and I pull over wooden chairs—no more leather in sight—and I settle in while Flap says, "I'll get us a round from the bar," and takes off with his money-clip in hand.
"When what started climbing?" one of the men asks, looking at me.
The woman with the scarf looks at me too, just long enough to register my presence, before saying, "The fucking ape. The gorilla. Haven't you been listening this whole time?"
The man shakes his head, seemingly untroubled by the accusation.
The woman sighs with friendly exasperation, and says, "Well, to recap," she looks at me again, like she's recapping for my sake, even though I'm not the one who asked, "it is said, generations ago, that a gigantic ape lived in a mansion in the center of town. I'm talking about the nineteenth century, way before BerkshireArts. When this was a sleepy fishing village."
I yawn, exhausted by the knowledge that I ought to protest—"But Berkshire wasn't on the sea until just recently," I know I ought to say—and the deeper, more insidious knowledge that I'm not going to. If history's going to be revised, or if it already has been, I decide, I'm not going to be the only one standing in the way.
Flap returns with two draft beers, handing me one. Suds slosh over the edge as I find a place for the glass on the coffee table while scooting my chair over to give him room.
"And this ape, which was a kind of proto-Mayor," the woman says, laughing, "ruled over the town—it was just a town then, of course, none of these towers," she says the word with deep disdain, "and the people looked up to this ape, or gorilla, considering it higher up the evolutionary ladder than they were. Like an exact inversion of what we think is true today." More of that deep disdain.
I sip my beer and look at the faces of the other listeners, trying to gauge how this strikes them, but their expressions are ambiguous enough that I can't tell if they're listening. Maybe, I think, she tells this story over and over again, in endless repetition, without it ever being heard.
"But then," she continues, "something changed. A kind of Local Darwinism came over the town. Something in the fish they'd been eating, or the water, or… who knows. But the people got all jumped-up, and," she puckers her lips, and, for the first time, I see something simian in the shape of her head, and can't keep from wondering whether she's a direct descendent of the ape she's describing, "insisted that things were backwards, that they belonged at the top of the ladder, and the ape belonged at the bottom, clinging like a chump to the bottom rung."
She scoffs, refills her wineglass, and says, "But the ape was no dummy. In the middle of the night, while these Local Darwinists were sniveling over their spreadsheets in their finished basements, he installed a pole—a really, really high pole—in the center of what was the old Town Square, right in front of the Town Hall, which is now the Department of Waitlisted Students at Berk, and waited at the bottom until the Darwinists woke up. When they did, sometime after dawn, he made a last address to them—I don't mean in words, but he got his point across, let me tell you," she seems to be talking solely to me now, perhaps because I give the impression that I'm listening, "and then he started climbing."
She falls silent, her simian head hovering above its scarf, as if waiting for me to prove that I've been listening. "And then what?" I ask, happy to oblige.
"And then," she says, tearing up, perhaps on cue, "he kept climbing and climbing." Her throat catches and I get the sense that she's sincere in her grief, even if she always cries at this point in the story. "He knew the pole was high, but no one could've known it was that high. There's no pole on Earth that could've been that high. Think about it: it's physically impossible. And yet," she looks at a sooty window on the far side of the backroom lounge, as if to indicate the direction she's talking about, "and yet, there he remains. Climbing and climbing. A century and change later. Two world wars and whatever-the-fuck has been happening lately, and he's still up there, still climbing. All we can see is the base of the pole shaking, and the occasional excrement falling down. He must eat birds, or bats, or whatever he can catch up there. Planes, for all we know. Some believe he's long dead, of course, or that, somehow, many generations of apes have come and gone on that pole, but there've been no fallen bodies, so I don't see how…"
*****
The crowd shifts. Flap nudges me and I sit up straight, mirroring his unnatural posture, as a tall, muscular man with a thick mustache and striking leather boots strides into the lounge, carrying an elegant, antiquated briefcase.
"Professor," the woman who'd been telling the ape story says, her expression darkening with what I take to be the awareness that her time in the spotlight has been cut short.
One of the men who's been silent so far gets up and offers the Professor his leather chair. The Professor takes it, while the man pushes through the curtain toward the bar. Something tells me he isn't coming back. I look over to Flap to see if he's relaxed his posture. He hasn't, so I don't relax mine, either.
"Professor Squimbop II…" Flap says. He keeps his mouth open, like he's hoping to have the chance to say something else, but needs to first see if the Professor is going to respond.
The Professor sinks deeper into the chair he's been offered, props his briefcase against his boots, and looks at me, his eyes glowing. "Should I tell him the story?" he asks, turning those eyes on the others surrounding us. He curls his top lip over his teeth, parking it just beneath his mustache.
*****
Before anyone answers, he launches into what I can tell is going to be the main event of the evening. I feel the woman's grief at her ape being left all alone, climbing and climbing that pole, its story forever unresolved.
"Since time immemorial," Professor Squimbop II begins, "my father, Professor Squimbop himself, traveled upon the Inland Sea. Across and across and across it, at the behest of a distant Master, ensconced in the very nerve-center of The Totally Other Place."
A platter of pork rinds and onion rings appears on the coffee table, as does a pitcher of beer, but no one moves to serve themselves, so, despite my hunger, neither do I.
Though I can tell that even this tiny disruption won't go unnoticed, I swivel my head left and right, to see how the others are responding. They're totally frozen, eyes riveted on the Professor, but there's something dead about their attention. Like that of waxworks, I think. Like I'm the only living being here, trapped in a waxen circle while an automaton recites a canned fairy tale.
The scene reminds me of Arp. It has the feel of his early films, the constellation of waxen puppets with a single living being among them, a rat or a rabbit, at the mercy of wire and metal entities that, by definition, can have no mercy.
I ratchet my eyelids back, trying to force myself to look like I'm listening, while the Professor continues the story that, I'm now certain, he has no choice but to continue. Like Arp reached through the curtains and pulled his string, I think, and now Squimbop II is on a course that must be seen through.
"And then the Totally Other Place, every August, after a long, hot summer about which nothing—nothing, truly nothing at all—is known, would send my father his assignment. In terms legible only to him, the Totally Other Place would announce where he was to go. Which distant shore of the Inland Sea he was to sail for. Not that he'd precisely sail, for ANGEL HOUSE had, and has, a mind and motor of its own. But, still, my father needed to know, in a general sense, where he was headed. He existed in symbiosis with the vessel, to a degree and in a manner that scholars still debate today. In any case, once he knew his destination, he'd load a year's worth of suits, notepaper, raw beef, and other sundries into the hold of the ship, board, and disembark, leaving the Totally Other Place behind once again."
I look at the Professor's eyes, riveted on mine, and can tell that any attempt to reach out for an onion ring, or to refill my beer glass from the pitcher, will be met with opprobrium. Maybe even violence. Still, I can't help inching my fingers toward the platter, if only to indulge in the feeling of slow progress. The relief of pretending to have agency.
"Aboard the ship, my father would sleep in the Master Bedroom while the Wooden Wheel steered itself toward the middle of the Inland Sea, over the vast, perhaps infinite, seafloor of sunken towns, all of them reduced to sand and seaweed, past distant, obscure blinking lights on the far shores, until, by September, ANGEL HOUSE made landfall in the appointed location. As soon as the anchor made purchase, a new town began to rise, gathering form and mass like a colony of mushrooms emerging from the rot and darkness of a dead empire. Rising, rising, until, by the time ANGEL HOUSE had transformed—as it did every autumn—from a ship into a mansion, my father could stride out, in his freshly polished boots," here the Professor extends his own boots, as if to indicate that they're the same pair, "to take an introductory walk around town. The town, although it had just risen from the seafloor, already felt old, stultified in the late summer or early autumn heat, burdened by memory and the weight of years and years that felt to everyone there as though they had in reality come and gone.
"And so, it was as if they really had. The hand of the Totally Other Place in generating this illusion receded. By the time my father finished his introductory walk and returned to what was now the storied mansion of ANGEL HOUSE, the proverbial haunted house in the Outskirts, it was indeed an old, old town, a place from which many generations had been born, and lived and died, dreaming all the while of Escape."
Professor Squimbop II falls silent here, tips an imaginary hat, and excuses himself, presumably to the bathroom. I sit in the waxworks circle, waiting for the spell to break. When it doesn't, I reach out and take a handful of cold onion rings, chomping them over my open palm to catch the falling debris.
*****
I finish the last one just as the Professor returns. He glares at the depleted platter, but doesn't remark on it. "And like so," he resumes, "my father's school year began. Every night, he'd lie in bed in the Master Bedroom, the now-defunct Wooden Wheel creaking beside him, while the Totally Other Place dripped Lecture into his head. This Lecture was both physical—a thick, rancid, creamy substance that leaked from his eyes, mouth, nose, and ears—and verbal, an actual lecture that, after firming it up in the shower first thing in the morning, he would deliver to the town's Schoolchildren, telling them, over the course of that whole year, of their coming demise, of the impossible-yet-true fact that their town was sourced from the floor of the Inland Sea, to which it would soon return. My father, in other words, told those children—who were, like us perhaps, nothing but figments, though this made them no less real to themselves—how insignificant their young lives truly were. How transient the thick clouds of memory and futurity that hung over their town would soon prove to be. How the waves would, in very short order, return to cover everything."
The Professor tears up, either as a learned affect to dramatize this part of the story, or because this part of the story genuinely makes him cry, just like the woman cried at the ape's departure up the pole. Now, as then, it almost makes me cry, too.
"So, for years and years, and then centuries and centuries, millennia even, my father sailed across and across and across the Inland Sea, generating new towns every time ANGEL HOUSE dropped anchor, impressing the truth of nothingness upon the children of each town, then pulling anchor, flooding that town, returning it to the seafloor it'd briefly arisen from. On and on it went, until, one year, something changed."
He pauses, takes an onion ring—one of the last two—and smiles at me while eating it. When he's finished, he wipes his fingers on his stylish slacks, leaving visible grease stains, and continues. "One year, a man known only as the Mayor stole my father's heart. Simply put, they fell in love. Something about the Mayor's woundedness, the depth of his desire to relive the past, the profundity of his belief in his town's coherence… it was more than my father could take. He knew he'd have to pull anchor—there was and is no disobeying the Totally Other Place—but something in him softened, or, perhaps, hardened. Some will to resist. To embed in this town and end his endless travels.
"Through means we need not discuss here, my father conceived a child with the Mayor. At the very end of his year in that town, just before it was time to pull anchor, my father was instructed to convene a summit in the woods, at which all the townspeople would be gathered. Here, he was told, he was to sacrifice the child gestating in the Mayor's womb, and thus kill the nascent threat to the Totally Other Place's dominion. Still a servant to powers beyond his ken, despite his now-conflicted desires, my father prepared to do exactly his.
"The townspeople gathered in the woods, an altar or dais was erected, he removed a long, curved boning knife from his briefcase," I glance at the Professor's briefcase here, and swallow a mouthful of lingering grease, "but, in the last moment, he found a yet-greater power in himself. Or, perhaps, some other, equally distant power—an astral enemy of the Totally Other Place—took hold of him. Either way, he turned the knife inward, slitting his own throat after declaring, in agony, that ANGEL HOUSE belonged now to his unborn child. And I swear to you all," he sweeps his hand here, like he's performing for a packed house, about to unveil the grand finale, "that I heard him say this, from within the Mayor's womb."
*****
The Professor then narrates how he was born—calling himself "the only real child to emerge from millions upon millions of seafloor figments"—how he spent his childhood and early adolescence in that town, and then, on his fifteenth birthday, how he took up the birthright that he remembered from his earliest fetal days. Though the Mayor initially tried to stop him, it was clear that nothing and nobody could. He passed Squimbop's grave, laid a final bouquet upon it, and made his way to ANGEL HOUSE, now a long-abandoned mansion on the edge of town, past the fairgrounds, at the lapping edge of the Inland Sea.
He went inside, trailed by a growing procession of townspeople, whose lives he had in a sense saved, all begging him to stay. Once through the door, he went down to the basement—I feel like now I'm the one reciting this story from memory, as if I hadn't just heard it from a stranger in a bar—unspooled the slack anchor chain, and pulled the anchor out of the ground it'd been rusting in. As soon as he broke the seal, the waters began to pour in, gushing and flooding and overflowing the town that his father had grown too sentimental, or suicidal, to destroy.
By the time he made it up to the Wooden Wheel, he was captaining a ship across choppy, salty waves, the town in which he'd spent his youth—the only town he'd ever known—already sunken forever, reverting, like all towns before it, to seaweed and sand.
"And so, I sailed and sailed," he continues, breaking me from the spell in which I seemed to be telling the story to myself, "all the way across the Inland Sea, in thrall now to no power but my own. When I dropped anchor again, on the far shore, Berkshire rose from the sand, and I strode off, by then a man, and commenced the lucrative career I've enjoyed ever since, chairing the BerkshireArts Narratology Department." He reaches out and takes the last onion ring. "My Legacy of ANGEL HOUSES is the best-attended course every year, for fifteen years running. There's not even a close second. Look it up if you don't believe me."
*****
Here, the others, the waxworks, come back to life, sensing that the story is over, and thus their roles as listeners—perhaps, I think, roles they play every night—have been concluded. Stretching, yawning, Flap asks, "Great, so what's next?"
Professor Squimbop II stands, takes up his briefcase, and says, "Let's show the new kid how we party. ANGEL HOUSE misses you guys. Open bar, barbeque, you name it, it's on me."