Chapter 3: The Zagreb International Animation Festival
In which I supposedly meet Arp for the first time in the Mirogoj Cemetery, and the nature of deja vu and recursion in Berkshire grows clearer and more menacing.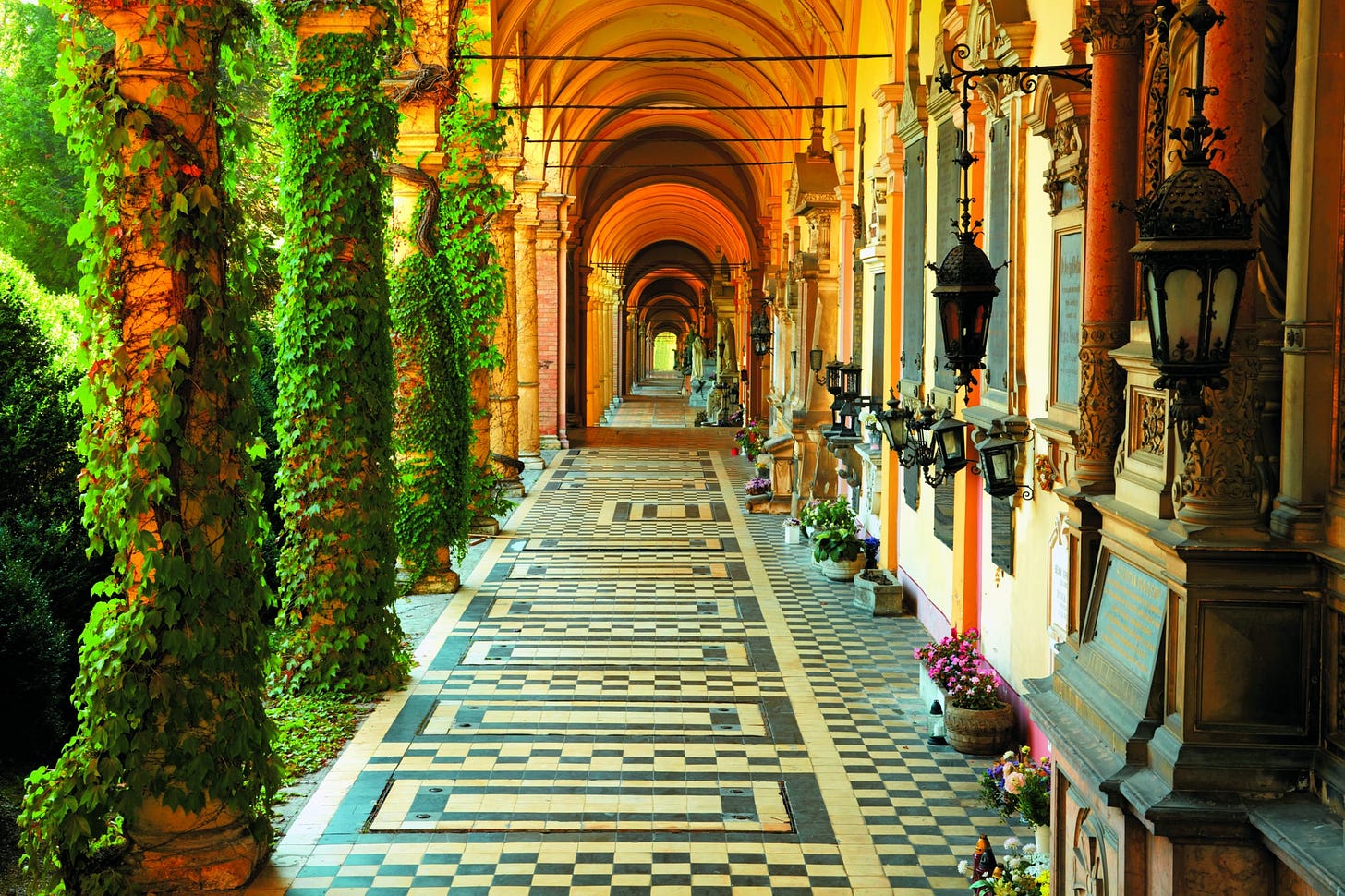 The key turns up easily inside the dirt of the first plant I rummage through.
I put it back, walk around the sleeping block in the growing dawn, and then return, rummaging through several wrong plants before finally fishing out the key for a second time. As I let myself through the front door, something comes up in my throat, and I swallow it, telling myself that it's just nerves. I didn't know where the key was going to be, I tell myself; I just looked where anyone would look, where anyone reasonable would hide it, and of course it happened to be there. No big deal.
But I'm too tired to resist the temptation to wonder whether, in some way I can just barely grasp, I knew where the key was because I hid it there. Because this is my house.
Of course it's my house! I tell myself, as I take my shoes off by the door and leave them on the same beige mat where I left them when I'd come here with a bottle of wine to watch movies with Arp and his wife, Ignacia, on Sunday nights during my junior and senior year of college. Of course it's my house: that's why I returned, isn't it?
I laugh, pressing deeper into the dark living room, my rucksack slipping off my shoulders as my socks shuffle across the slick floorboards. The inside air smells stale but pleasant, its slight tang of old coffee familiar and comforting. As I pass the flatscreen TV, the seat of my jeans brushing along its glassy face, I look across at the mantle behind the couch, and catch sight of Arp's trophies and awards, in the center of which stands the 2007 Grand Prix from the Zagreb International Animation Festival, where, now that I think about it—the effort causes me to sink into the cushion where I'd sometimes fall asleep during those movie nights a decade ago—he and I first met, before I ever knew him at Berkshire.
*****
It was 2007, the summer after my freshman year, when I'd found my way to the Animation Department after a series of failed attempts to get out of the broader Film Department's Documentary 101 pre-req. I wasn't then, and am not now, remotely interested in documentary. I sprawl on the couch, yawn, push my toes against the cushions on the far side, and think of the Goals For Art entry that goes something like:
The only chance the human mind has at glimpsing and possibly representing anything resembling the real is to use, to their absolute fullest extent, all the tools the so-called bizarre and surreal have to offer. Because the real, whatever it is, whatever's really going on with reality, is so much stranger and more frightening than we can possibly comprehend—and perhaps, in some still-darker sense, so much simpler and more orderly than our tendency toward chaos theory allows us to imagine—that only the absolute strangest, most confrontationally taboo art can even begin to suggest what's afoot in the world… and, by extension, in the universe.
Furthermore, the psychological and the physical nature of reality, if fully understood, prove to be inextricable. Each a version of the other, thought a kind of matter, and matter a kind of thought. Animation, alone among art forms, can attest to this. Indeed, it cannot not attest to this.
So, in a sense, I think, as activity starts up on the street outside the house—trucks backing up, lawnmowers beginning to rev—I did believe in documentary, and still do, but not in the kind of surface-level recording of events as they appear that the documentary courses at BerkshireArts insisted on teaching. As if they wanted to break us, as I wrote in Goals For Art all those years ago, forcing our attention away from reality itself, and affixing it to their own ersatz version thereof, so that, no matter how far from campus we traveled, we'd never be free of their influence.
Which is why, despite my inability to draw in a style more sophisticated than a middle schooler's, and despite my general disinterest in what at that time I probably would've still called 'cartoons,' I ended up immersing myself in the Animation Department my freshman fall. They let you do what you wanted, and—credit to myself here—I took them up on it. I shunted whatever nominal responsibilities I had to the side, and dedicated my life, with the fanaticism that, thankfully, I possessed at that age, to making a complete short film before my first year was out.
Over the course of that year, I sank deeper and deeper into the arts building—as I lie on the couch in Arp's old house, I picture myself sinking down through those creaky wooden floors, all the way to the couch in the basement, where I'd doze off the hours between six and eight in the morning, eyes watery and stinging behind lids that wouldn't close all the way. I started in the attic, where the drawing and painting supplies were, spent long hours on the first floor, in the photo and computer labs, and, finally, as winter ended, found my place in the airless sub-basement, where, in a locked room to which I managed to get one of the few extant keys, sat a gargantuan industrial drill press fitted out with a digital camera, which allowed me to create panoramic scrolls and shoot them from a great height, infusing an epic sensibility into the most miniaturist of art forms. And then—this memory feels over-familiar, like I'm having it for the second time in a row—I'd lie down on the couch, and try to close my eyes.
Though it was nothing like the fugue I would enter when it came time to face my senior thesis in 2009 and 2010, I pushed myself past a breaking point—a first breaking point, as I'd later write in Goals For Art—that freshman year, the result being that, by the time I was informed by email that my first film, Lancets in the Antechamber, a horrific "day in the life of the American MC Escher, Surgeon of Matter," had been accepted into the main competition at the Zagreb International Animation Festival, I didn't respond. It was May of 2007 and I could barely remember having turned the film in, let alone having submitted it abroad.
I'd made no plans for the summer, but it still struck me as coercive when the Animation Department presented me with round-trip airfare, a hotel booking, and a postcard of the rocky Croatian coast that said, "Congrats, Spine. Go make us proud."
*****
So I went, buzzing with excitement at the opportunity but also, now that I think back on it, a premonition that there was something sinister about the pretenses under which I'd been sent. Some way in which, while seeming to serve my own agenda, I'd end up serving the Department's.
After a hurried transfer in Vienna, I made my way from the Franjo Tudman International Airport to the hotel, a cement hulk beside, as I remember it, a choppy expanse of sea, though, later, I looked on a map and saw that Zagreb is as far from the coast as Berkshire used to be.
I pull a leather cushion over my eyes, deciding, on Arp's couch, to sleep all day, as I sometimes did on bleary Sundays in college, though I'd rarely manage to lie still for more than a few hours before groaning to my feet and endeavoring to pull myself through a mental fug that wouldn't clear until the next morning.
After checking into my room in the hotel, which was hosting the Festival's receptions and panels, I went out into the Croatian capital, curious to explore Eastern Europe for the first time, and, more significantly, to steep myself in the new feeling of being abroad without my parents. The new feeling of being anywhere without my parents, at large in the world, an individual in a strange city, a new player in the unregulated flux of history, no longer an art student on an art campus in deepest New England.
I walked along the broad, cobbled boulevards, past posters for a Korn concert in Ljubljana, past cafes with outdoor tables under umbrellas for beer brands I'd never seen before, and found myself, after an hour or two, at the gates of the Mirogoj Cemetery. I turned back and ordered a salami sandwich and a bottle of beer at a grocery across the street, paying with a large bill I'd extracted from an ATM and receiving an impossibly copious pile of change.
Then I returned to the cemetery, my back pockets bulging with bills. Beyond an ivy-covered façade and a gamut of ivy-choked arcades, I found a bench among the graves of famous Yugoslav industrialists and architects, prime ministers and the composers of apparently significant symphonies. Sitting down, I began to think, or to try to think, of some role for myself in the world, now that I was in it.
There, on the bench, beside the graves, it started to sink in that I'd been singled out, that my classmates didn't have films in the Festival, that I was here on my own, in a brand-new place. The exact place, I thought, as I unwrapped my sandwich, that I'd been determined to go all along, all throughout the grueling year of 2006-07 as I burned through my nights with bottles of Vitamin Water and packets of Junior Mints, animating the brutal maneuvers of the American MC Escher, Surgeon of Matter, until I collapsed on the basement couch.
Now that it was happening, it felt both shocking and redundant, like it'd happened long ago. My First Festival Appearance. I closed my eyes and pictured the write-up. I tried to hear what people would say. "There, in Zagreb," I heard, "Spine stood at the very beginning of an accelerating path to Art World greatness, like the first time Francis Bacon sold a painting, at the Hanover Gallery in London in 1949, when nobody had yet heard of him, and yet there, for all to see, beyond the slightest doubt, he was."
I felt the cemetery infusing me with a spirit that seemed to lie latent beneath the graves, an unashamed will to power, a sense of burgeoning ambition that was welling up from down where it'd been contained too long, in the false category of 'dead,' in the cemetery's case, and in the false category of 'not yet born,' in mine. All of our ghosts, I realized, as the hot Croatian sun reached the middle of the sky and began its slow descent, were coming unstuck and returning to their rightful places of prominence in the world of the living.
Tearing into the soft, salty meat of my sandwich, drenched in mustard and pepper brine, I imagined myself, there, in the grand national cemetery, as a figure on par with those whose memorials I was contemplating, someone primed to leave a legacy, who would need to be memorialized by his home nation, his name and works added to the ongoing story it told about itself.
In this frame of mind, I began to draft the speech I would give upon winning the Best Animated Short award later tonight, picturing myself on a high stage with the Croatian flag behind me, an auditorium full of well-dressed and well-fed attendees spread out at my feet, waiting to hear my statement, the few, provocative words I chose to offer to both slake and stoke their curiosity about my larger vision, my…
*****
My speech was cut short by the appearance of a husky, bald man in a paint-stained smock, weaving across the grounds with a cigarette in his mouth, his gaze fixed on the gravestones, as if searching for a name. I watched his progress as a certainty grew in me—this happened more and more often from that point forward, certainties arising in my core and making their way to my head, where they took root, and thus, in a sense, took control—that he was approaching my bench, and would soon be sitting beside me. I wiped my greasy fingers on the wooden slats, took a long swig from my beer, and watched, like a spectator at the Animation Festival that was probably kicking off its afternoon programing at that precise moment, as the short, tough man made his circuitous but inevitable way toward me, inspecting every gravestone he passed.
*****
"Mine's around here somewhere," he said, when the journey over to my bench had played out exactly as I'd foreseen it. He stubbed out his cigarette, lit a new one, and sat down beside me, as I'd also known he would.
"Your what?" I asked, as he offered me a cigarette. Though I wasn't a smoker, I accepted. I knew what he was going to say.
"My grave." He put his lighter in his vest pocket after lighting me up. "I'm technically dead!" He laughed, exhaling smoke in what became a long wheeze. "You summoned me," I thought I heard him add, but I couldn't be sure.
He pulled a flask from his vest, unscrewed the cap, took a long swallow, and put it away. When he'd settled into a mellower mode, he leaned back and repeated, "They say I'm dead. Buried somewhere in here, the great Croatian cemetery. Seat of national pride. But I'm not even Croatian!"
"You're not?" His accent was thick, clearly Slavic, though I couldn't say any more than that.
He shrugged with a mysterious grin, sweat dripping down his bald skull and onto his nose. "Maybe I am, and maybe I'm not." He laughed again. "Don't you know who I am?" He looked at me like this was a joke I was supposed to get.
I wasn't sure if I quite got it. But I knew what to say. "You're here for the Festival."
He flashed the same puckish grin, that of a shrinking, aging man still assured of his immense power in certain circles. It was already familiar to me as one of his signature expressions. "That's right," he said. "Hans Arp… you've heard of me."
It wasn't a question. I swallowed and tasted salt and grease, merging into a ball around my Adam's Apple. Of course I'd heard of him. All this past year, every minute that I hadn't spent working on my own film, I'd spent studying his, taking them apart frame by frame, in some cases printing out screenshots of his sets and puppets and trying to rebuild them as closely as I could. His rabbits with gaping vampire mouths, his extraterrestrial androgynes with dragonfly wings and putty eyes… I'd made them all in the Fabrication Lab of the arts building, where they were almost certainly sitting still, waiting out the summer in uneasy silence. Or not silence, I thought, as I felt the salt-lump settle. I pictured the puppets chattering and hissing at one another, their wire nerves lighting up with the knowledge that here, on the other side of the world, Spine & Arp were meeting for the first time. Their two fathers, who might, in a sense known only to them, be only one.
I nodded, blinking back the fast-expanding image of this Puppet Sabbath. "At school, I studied your films. They were a huge influence. I just never—"
"Saw an image of me?" He smiled, a little differently this time, sweeter, less smug. Like he was trying to signal that he was about to start telling the truth. "That's because there aren't any. When I said I'd been dead, before, I meant it. Honestly." The smug grin returned, spoiling the sweeter one. "I rose from that grave, right over there," he pointed into the afternoon light with his cigarette stub, smoke rising from his fingers.
"And do you know why?"
Because I summoned you, I thought. I shook my head, gazing upward as a pair of squirrels leapt between the branches of a flowering tree.
"Because," he said, lighting a new cigarette, "I'm going to America. At last, the Iron Curtain is coming down. Or rising up, if you'd rather. Either way, I'm getting out."
*****
I twisted and turned on the bench, the warm air of Zagreb thickening and turning against me, mashing me down into a leather couch grown slick with sweat. In a middle space, a notional realm between Croatia and Berkshire, between Arp on the bench and Arp in the house I'm lying in now, a cold, narrow room stuffed with puppets, I hear him say, "I'm bound for BerkshireArts in the fall. Ever heard of it?"
The vision spits me out back where I started, alone on a leather couch, awash in sweat and, beneath the sweat, déjà vu. Not necessarily the sense that this scene in the Mirogoj Cemetery actually occurred before—though I wonder if it did, and then, though I know I should stop myself, I wonder if I was even in Croatia that summer, and, if I was, whether it was the summer of 2007, or that of 1986, as Arp claimed, the Iron Curtain about to lift, just as I, now that I think of it, was about to be born—but rather I feel that, if it never occurred, then it was always going to, precisely now. Everything according to plan. The Department's plan, or that of whatever entity the Department represents.
I sit up and rub my hair, yawning, then gagging as the full weight of the hangover kicks in.
The essence of déjà vu, I think, isn't the sense that something has occurred before, but the sense—and now I feel a wave of meta-déjà-vu, as it seems as though this exact thought is also occurring to me for the second time in quick succession—that it was always going to. The sense that one's thoughts, even if they're occurring for the first time, are not unique or original but are, rather, grooves in a record scratched long ago. Grooves that the needle—and here I look upward, afraid of the needle descending from the ceiling to puncture me—has only happened to reach at this precise moment, playing them out as if they were genuine thoughts because that's the only possible result when the needle scratches the groove.
I take to pacing the house, trying to steady myself, but my attention keeps bobbing back up to the ceiling, obsessed now with the image of the needle coming down and pinning me in place, a series of horrible notes issuing from my corpse as I spin round and round until someone—Arp—comes in and finds me.
*****
This vision grows so pervasive that, soon, no section of the house is safe. Every piece of the ceiling I can see feels primed to impale me. I sink to my knees, grab a cushion off the couch, and crawl to the front door with the cushion against the back of my head, my veins seething with adrenaline, as they always do when I get a blood test, my arm tourniqueted and splayed out, my eyes wide-open and riveted on the antiseptic far corner of the testing room.
Like so, I make it outside, crawling down the front steps, past the watchful eyes of an elderly couple on their porch next door. I get to my feet, toss the cushion onto the lawn, and wave to them as I hurry out into the neighborhood, unsure of my destination. It's only when I find myself back on campus, my eyes throbbing with the compound effects of exhaustion and terror, that I pause, spit up against a tree, and decide to retrace my steps to the Commodore, hoping to find a room there, as Flap suggested I could.
*****
A giddiness comes over me as I walk across campus, my mood lightening now that I've resolved to move to the Commodore. Maybe I'll just spend the night, I tell myself, get a real night's sleep, take a long, hot shower, eat at the breakfast buffet, then board the train and make my way back to the City. Remember this interlude as a brief, strange reunion. A final visit to my embattled alma mater, before it went all the way under.
My step is jaunty now, manic, carrying me across the campus almost faster than I can go, so that my upper half lurches and trembles, straining to keep up with my lower half. Like so, I end up in the middle of the wet market I glimpsed with Flap. Students in jean shorts and bikinis bustle around, leading pugs and pit bulls on long chain leashes. They hang snakes and crocodiles from meat hooks, and hack goat skulls in half with heavy cleavers. The smell of blood and bile and fatty smoke makes me tip sideways and knock against a plastic table. I fall into a folding chair and lean on my arms, breathing erratically until a girl shouts, "Order up!" and someone—her, or her associate—places a paper plate in front of me, its thick steam making my mouth water.
I rub my eyes with my inner elbow and look down at a still-simmering hock of whitish meat, dotted with red pepper flakes and a dripping trail of brown sauce. Beside it sits a bright red drink in a party cup. The notion of any return to the City after a good, long sleep and a hot shower recedes, pushed into a remote part of my mind to make space for the scene around me, in which dozens of students butcher, fry, and consume animals of at least ten species, coming from every… kingdom? Genus? I can't think of the word for the category that separates reptiles from birds from mammals, but, whatever it is, I think, as I taste my tan meat, they're all here.
A yelp fills the market as something furry loses its head. We all stop for a moment of silence, then resume chewing. Pretty tasty, I think, as I pick up the rest of my portion and dip its corners in the cooling brown sauce. I wash it down with stingingly sweet fruit punch, squinting as the sun moves past the corners of the tent I'm sitting under, stabbing straight into my left eye, which is extra-sensitive from years of squinting at a brightly lit cell in an otherwise pitch-black basement.
*****
With my lunch inside me, I stuff my plate in a metal trash barrel, wipe my fingers on a pile of napkins I take from an empty table, and wander through the wet market, which has expanded to fill the whole quad where my commencement took place in 2010. Piranhas and barracudas eye me from cloudy tanks, while monkeys and lynxes pace small circles of sawdust inside wire enclosures.
I belch and a warm, contented feeling spreads through my body, the rare and welcome feeling, I think, of being full without also being drunk. My spirits begin to lift again as I cross the street that divides the campus from downtown, as choked with trucks as it was last night—the image of Flap and me crossing this street comes back, resurfacing from dark static—and I see my roller-bag, emptied and stomped to death between a NO PARKING sign and a mailbox.
Though part of me would like to linger, commemorating the lost future that the bag has come to represent, another part is determined to hurry on, as if my chance to arrive sanely at the Commodore—the notion of a good night's sleep seems to have returned, now that I've moved past the stimulation of the wet market—is about to be lost. So I barrel through downtown Berkshire, averting my eyes from the new towers and housing developments spreading to the horizon in both directions, and force my way through a snarl of construction and out to the ocean, which astounds me even more than it did last night.
Now, in the light of day, the boardwalk with its row of ships along the horizon is even more incongruous, lacking even the possibility of daytime relief, which, I realize, I'd been banking on last night. The full horror of the ocean's having moved 200 miles inland without so much as a news report comes down on me, and again threatens to arrest my progress toward the Commodore. I begin to laugh as I picture myself trying and failing, over and over again, to close the distance between myself and the hotel, and I think fondly of Flap's slapstick seminar as I put my head down, avert my eyes from the gleaming water and, staring at the slats of the boardwalk beneath my feet, run the rest of the way to the dead revolving door, which, just like last night, I manage to force open with my shoulder.
*****
Inside, the lobby is full of activity, well-dressed figures dragging bags past the bar and onto the elevators, or emerging from those elevators in rumpled evening wear, hanging lanyards around their necks as they bustle into the auditorium.
I sink into the same chair where I waited for Flap to get our fish and chips last night, and breathe into my fist as the déjà vu overwhelms me again. It washes down from the ceiling, in from the walls, and up from my gut, like the ocean's filling the hotel. I wait for it to pass, or to normalize, and then I get up, exhale, and make my way into the auditorium, expecting to see Flap in the middle of his show, once again, so as to restart the cycle that began last night, which, as I see it now, won't end until it deposits me here tomorrow night, and in that sense, without a shock intervention, won't end at all.
To a degree that surprises me, I realize that I've resigned myself to this. I'm maybe even hoping it'll be the case.
As I enter the auditorium, I see a man onstage, thronged by others in jet black tuxedos. I'm jostled deep into the crowd before I realize that it isn't Flap, but, rather, Arp, receiving the Grand Prix at—I see the banner over the stage, in English and a language I don't recognize (Svjetski Festival Animiranog Filma)—the Zagreb International Animation Festival.
Images from Arp's stop-motion classics, a bestiary of ducks with screwdrivers for tongues, whales with drill-bit flippers, and human children with necks made of nooses, fills a screen so massive it takes up the entire back of the stage and bleeds beyond it, rippling across the velvet curtains.
Arp says something, also in a language I don't recognize. Then, switching to English, he bows, holds up his award and says, "At the risk of overstaying my welcome, I will say, simply, thank you, and thank you again. I love you, Zagreb! I rose from my tomb for you!"
Then he saunters off stage, flask already in hand, just as he did more than a decade ago, when I first met him, before both of us returned to Berkshire in the fall to begin what would become our most intensive period of playing the roles of mentor and mentee.
*****
I make my way back to the lobby along with the crush of festivalgoers, avoiding the chair I slumped in before, for fear of resetting a cycle that now includes the surprise I've just experienced. As I pass by, I see a ghostly image of Flap emerging with two trays of fish and chips, handing one of them to the ghost of myself in the chair, and I see myself take it, and I see us carry them out to the boardwalk, along with two lite beers, where we…
A thick, forceful pinch on my left shoulder forces me back into the flesh of a body I'd briefly abandoned. I turn, wincing but relieved, to regard Arp's smooth, tanned cheeks and bulbous, hairy nose, his nicotine-stained teeth protruding beneath it. "Hey man," he says, "I lost you back in the cemetery. Thought you'd skipped town."
I look away from him, at the revolving doors of the hotel and the journalists and glitterati—of the offbeat type that animation festivals attract—and wonder what it means to decide that I have or haven't skipped town. Which town? I want to ask, but, instead, I nod, and let him lead me onto the boardwalk, where the crowd is milling, drinking, smoking, talking.
He puts his hand on my shoulder again, and says, "Take a walk with me. I'll show you the Zagreb that only I know."
*****
Together, we walk away from the faux-old hotel, beside the new ocean, and into the city that is now, as far as I can tell, both Berkshire and Zagreb. Arp points out the pastry shop where his governess took him and his sisters on Sundays after church, where they'd be allowed to order all the pastries they wanted, piling them on a thin wooden tray, so high their child-sized appetites could hardly make a dent. "We threw away so much pastry," Arp laughs, wheezing around his cigarette. "But Masha never tried to stop us from ordering. Looking back on it, I don't know if it was a kindness or a perversion. She knew we couldn't eat it all, not even close, and yet, Sunday after Sunday after Sunday, for years, a decade even, the pile was served, and nibbled at, and thrown away."
We look in the window now, cakes and tortes piled in the glass case, amidst baskets of marzipan fruit and flowers, a light on in the back, as the baker works the night shift, sugary smoke pouring from a vent overhead. Arp sighs, yawns, clutches his trophy, and says, "I'm so glad this is here. You have no idea."
He looks at me cryptically, meaningfully, and I can't tell if he's in on it, nor quite what it is.
I look at him again, and again approach the point of asking him if what I'm thinking is true, but the wistfulness with which he regards the cemetery, now that we're walking through it again, packs the words back inside me. I swallow and regard the majestic graves, the same as in my memory of my trip to the Zagreb International Animation Festival, except now, here, I'm in the future, relative to that memory's past.
"And this one," Arp points with his trophy at a shadowed tomb, "is mine. The one I emerged from!" He laughs, wheezing again, like this is a line he's trotted out many times before, as, indeed, he has.
I laugh too, while we make our way back to the bench where we met. As we sit down, he sighs, like he has something important to say, and has finally found the moment to say it. Though I'm desperate to hear what it is, I feel my attention drift upwards again, out of the present, up toward the sky, as if that were the surface of a body of water whose deepest point is the Mirogoj Cemetery, long since submerged.
From that surface, when I break through, I look down, and can just barely see myself and Arp on our bench by the tomb, sitting side by side after the Zagreb International Animation Festival, bonding over the coincidence that, come fall, we'll both be heading back to Berkshire. I see him lean in and say what he's been waiting to tell me, but, up here, with seawater rushing past my head, I can't tell what it is.
*****
I swim across this surface, past the barges as they blast their eerie horns and whisper over their radios, strafing me with spotlights. I can't make out what they're saying, but I can tell that they know I'm here, and are tracking my progress as I fight my way toward the lights of the Commodore, just visible in the distance. I've never been this far out to sea before, I think, and never before have I had to swim for my life. I haul one arm over the other, trying to pace myself, as I ruminate on the journey of the past ten years, through my twenties and into my thirties, which I see now as exactly equal to the depth of the water I'm in, with the Spine I used to be down there, on the bottom, a shipwreck, and the Spine I am now up here, fighting his way back to land.
The colossal terror, I think, of moving to New York alone, of telling the world I intended to be somebody, or believed that, in some intrinsic sense, I already was somebody, and yet the paucity of evidence, the years of work on The Pale Oaks without the slightest confidence that anyone would see it, or that, if they did, that their seeing it would—despite the accolades my early work earned at Berkshire—amount to anything… the roiling uncertainty, the guilt at the hubris of the life I'd chosen, the magnitude of my mistake, the equal magnitude of the world's determination to punish me, to cut me down to size, to wring from me an apology so vast it would take the rest of my life to deliver, and yet, somehow, from the midst of all that, I dragged my fraying mind through frame after frame after frame of The Pale Oaks, squinting in the half-light of the filming closet I'd set up in my apartment, just as I also, in a sense, squinted in the half-light of the Pale Oaks itself, where Arp lay dying, both of us delirious, straining toward some middle point, some reprieve in the mental space we shared, where we could meet for the last time, some far shore upon which, in order to finish my film, I found a way to access him in his weakness and, rather than using that access to heal him, I pushed him the rest of the way into whatever hell he resides in now, so that I might, finally, finish being born, and step into the world as a Fully-fledged Artist.
As I fling myself up on the boardwalk, shivering and spitting up brine, I admit what I've managed to keep from admitting until now: I killed Arp.
I get onto my knees, spit up on the wooden slats, pull shrimpy weeds from my hair, and say it again, this time out loud: "I killed him. He died in the Pale Oaks because of me, and now, here, he will have his revenge." I see him emerging yet again from his tomb in the Mirogoj Cemetery, and sauntering back toward me, repeating what he said before, but this time, likewise, out loud: "You summoned me."
*****
As I begin the walk back across campus, still shivering, soaked all the way through, I look down a side street and see the wide, elegant boulevards of Zagreb. A streetcar makes its slow way from one stop to the next, and somewhere down there, I think, perhaps a long way down, the Mirogoj Cemetery stands still, its iron gates open, Arp's tomb empty.
I watch the trucks and construction vehicles hurtle by, heading toward construction sites in every direction, and I think how it's all being rebuilt here. Zagreb, New York, Los Angeles, even Berkshire itself, as it used to be… here, in this purgatory after the end of the world, they're building it all over again, as if it'd never been lost. As if it'd only ever existed here, the only City on Earth. A crane shudders to life at the end of the street I'm now crossing, beaming red light over a pit, and I wonder how much all of this has to do with me. To what degree am I causing this to happen, unwilling to part with all that I've left behind? To what degree is the spirit of this town—though, as I thought a moment ago, it's really a city—reading my mind and drawing sustenance from it, dredging blueprints from my brainstem?
Which is more frightening, that things can't be as they were, or that they can't be otherwise?
I'm all too aware of the places my mind is apt to go if I let it, and yet I feel as sane as I've felt in recent memory. Even sanely though, the city's unregulated growth feels like a challenge, or a test: would I stop it if I could? Would I cast the rebuilt Zagreb into the construction pit, and force the work crews to disperse?
Would I, I wonder, as I pass the library and begin my descent down the far side of the campus, kill Arp a second time?
*****
When I make it to the house, I pause to catch my breath, thinking over my walk here with Flap last night, which now feels as long ago as my first meeting with Arp, on that bench in the cemetery. Both feel canonical, unreal and hyperreal at the same time, so fraught with meaning they can always be relived, but never lived for the first time. Dripping with meaning, I think, like rum balls with rum.
With this image in mind, I reach down, retrieve the key from its hiding spot, and let myself into the house, which now exudes the familiar aroma of Arp's cigarette smoke. As I make my way to the couch, which I remember now is missing a cushion, I look up and see the Zagreb Grand Prix on the shelf, just where it was when I got here. Just where, I think, as I lie down in the place where the cushion's supposed to be, it's always been.